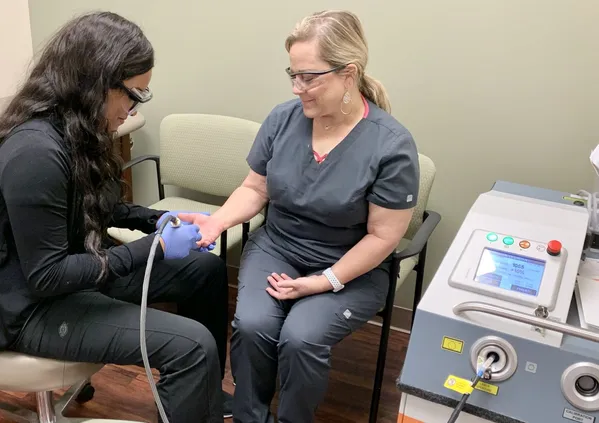 XTRAC is the first and only FDA-cleared excimer laser for improving psoriasis. Most patients have good improvement within 10-12 short treatment sessions with this simple and painless laser. This revolutionary treatment provides welcome relief without severe side effects or time-consuming, messy creams.
XTRAC laser is also clinically proven to improve the pigment loss of vitiligo in many patients. Vitiligo is, unfortunately, an extremely difficult condition to treat, and most other treatments may not be very successful. Particular areas, such as the face, neck, and scalp often respond well with the XTRAC procedure, although more sessions are typically required than for psoriasis.
How long do treatments take?
Each session takes about 20 minutes or less. Sessions are administered by our trained medical assistants who have been specifically trained for this laser.
How often do I come for treatments?
XTRAC treatments are typically given 2-3 times per week in our office, depending on your schedule. Treatments must be at least 2 days apart to monitor the effect of the light on the skin. Most patients begin to see improvement in 4-6 treatments, good improvement in 10-12 treatments, and clearance in 10-20 treatments. However, individual results may vary, and there is no possible way to guarantee similar results for everyone.
Does XTRAC cure psoriasis?
Unfortunately, psoriasis is a chronic disease with no permanent cure. It may always recur after any treatment is stopped. With XTRAC laser, most patients experience 4-6 months or more of clear skin after a series of treatments. Other psoriasis treatments, such as periodic steroid creams can be used in conjunction with the XTRAC laser. In our office, we also try to focus on lifestyle changes that will have a positive impact on this chronic condition.
Is XTRAC therapy covered by medical insurance?
Almost all major insurance companies cover XTRAC therapy for psoriasis, and approximately 60% of them will cover treatment for vitiligo. While this is considered a medically necessary procedure, the costs will be applied towards your deductible until you have met your out-of-pocket deductible for the year. Also, insurance companies typically require the standard co-pay with each visit. For specific questions about insurance coverage and benefits, please call the XTRAC Patient Support Center at (800) 370-3677 or schedule an XTRAC consultation with our office.
Is the laser treatment painful?
No. It is completely pain-free, and no anesthesia is required. Some patients may feel a mild sunburn-like sensation on the treated skin 12-24 hours after a session.
How safe is XTRAC compared with other psoriasis treatments?
XTRAC therapy is an extremely safe option which uses a specific wavelength of UVB light (308 nanometers) to treat only the affected skin. It is much safer than standard light treatments (phototherapy) which expose the entire body, even uninvolved skin, to the ultraviolet rays. XTRAC does not have the risk of stretch marks or thinning skin as topical steroid creams do. XTRAC also has no risk of birth defects, liver damage, or increased risk of infections as some of the psoriasis medications or biologic injections potentially do.
Can pregnant women or children be treated with XTRAC?
Because the XTRAC laser is basically focused, intense light, it is safe for use on women who are pregnant or breastfeeding as well as children.
Which psoriasis areas are best for XTRAC treatments? Which are not?
Localized areas, such as the scalp, elbows and/or knees, typically respond best. A patient with psoriasis patches all over the body would benefit more from a different treatment regimen. However, XTRAC laser can be used in combination with other treatments, such as biologic injections or methotrexate.
How do I get started?
Call our office to schedule a complimentary XTRAC consultation with a staff member. (This is different than a standard medical office appointment where Dr. Brown treats psoriasis.) During this time we will quickly assess your psoriasis involvement and treatment history to determine if XTRAC would likely be beneficial for you. We will then submit the information to your insurance to determine your medical coverage and out-of-pocket expenses. You should be receiving a call from our office within several days to notify you of these results and schedule your first appointment if desired. If you are a new patient to our office or have not been treated lately, we will need to schedule a medical appointment with Dr. Brown prior to or on the day of your first XTRAC treatment.