Appointment Information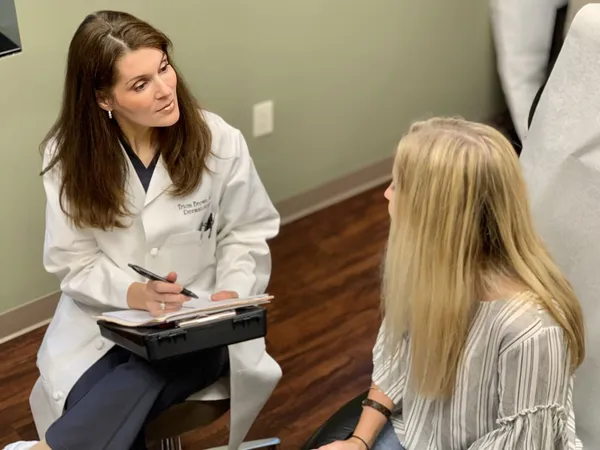 Arrival Time
New patients, please arrive at least 10 minutes prior to your scheduled appointment time. At the initial visit, our reception personnel will need time to scan insurance cards and identification cards and to confirm insurance information. Prior to your appointment, please download and fill out the patient forms to expedite your visit (see the Registration Forms section).
If you are more than 15 minutes late, your appointment will be considered missed and a $75 cancellation charge will be applied. Please call us the moment you find that you are running late, and we will try to accommodate you.
We love to help our patients! However, cursing or mistreatment of our staff will result in dismissal from our office. We want your visit to be a positive experience for everyone.
Cancellation Policy
If you find that you cannot make your scheduled appointment, please call our office at (832) 871-4111 as soon as possible to cancel or reschedule your appointment. In order to provide the best possible service and availability to all our patients, it is office policy to charge a $75 fee for any regular appointments not cancelled with the front desk by phone at least two business days prior. We have a long list of patients trying to get in for a dermatology appointment, so please give us enough notice if you cannot make your scheduled time slot. Please note that there is a $200 cancellation fee for procedure and surgery appointments.
As a courtesy, our office will try to call, text, and/or email a reminder prior to your appointment. Please respond as requested to our text and email reminders to expedite our scheduling system.
Deposits
All appointments with Dr. Brown and Tori require a $50 deposit. To schedule cosmetic procedures, we require a deposit which varies from $50 to $200, depending on the time involved. We are unable to reserve an appointment time until the deposit is made. This deposit is fully refundable if the appointment is canceled at least 2 business days prior to the scheduled time, as per our cancellation policy.
What to Bring
Completed Registration Forms
Completed Evaluation Forms (if they apply, for acne, hair loss, etc)
Insurance Cards
Photo ID
Referrals and Authorization (only if needed)
A detailed list of all current prescription and over-the-counter medications and supplements (please include dosages)
A detailed list of all medications tried in the past for the presenting issue (such as triamcinolone 0.1% cream for eczema)
Consent form, if a child/minor is arriving without a parent.
Insurance Cards and Identification
All patients utilizing their medical insurance coverage will need to bring their current insurance card and driver's license or photo ID. If you do not have your insurance card or if insurance cannot be verified, you are responsible for the full balance at the time services are rendered. For patient protection against identity theft and insurance fraud, we are required to visually confirm identity with a government-issued photo ID.
Medicare / Medicaid
Our office is not contracted with Medicare nor Medicaid. Medicare rules prohibit us (or the patient) from filing secondary insurance claims since we do not accept Medicare as a primary. We try to keep our self-pay fees reasonably priced for Medicare patients who choose to pay out-of-pocket for our services.
Referrals and Authorization
If insurance referrals and/or authorizations are required, it is the patient's and primary care physician's responsibility to provide such. We will be unable to obtain these for you at the time of visit.
Minors
Minors who arrive for treatment without a parent or legal guardian should bring the designated, signed Consent Form . It is recommended that the parent be present at the new patient appointment and any future appointments that would require crucial medical decision making.
Payment / Billing
Payment is made at the time of service. We accept cash, check, Visa, and Mastercard.

We highly suggest that you become very familiar with your insurance plan in regards to deductibles, health savings accounts, etc. Even when a procedure is considered medically necessary (such as freezing a wart or removing a tender mole), the cost may be applied towards your deductible, and insurance will require that you pay the full or partial cost. The cost of all medical procedures is determined by your specific insurance plan. We will call your insurance company prior to the appointment to confirm your deductible and copay amounts. Please understand that the information that we are given from the insurance companies is not always accurate. After billing has been reconciled with insurance, if you are owed money back, we will gladly send you a reimbursement check in the mail.

After the appointment, if you have any questions about your invoice, please contact the office at 832-871-4111 or [email protected].
Prescriptions
If you need a 3 month prescription for your mail order pharmacy, please notify the nurse/medical assistant at the time of your appointment.
We are equally frustrated that medications are often the most expensive part of routine healthcare. If your insurance plan has a high deductible for medications that has not been met, please inform Dr. Brown or the medical assistant. We always try to provide rebate cards and/or samples when possible. If you find that your medication is too expensive or not covered, please leave a message for our medical assistants so that we can try to prescribe a more reasonable alternative.
Medication Refills
Before you come to your regular appointment, please look over your dermatology medications to determine if you need to request any new prescriptions for the next year at the time of your appointment.
In order to ensure that you are receiving the most appropriate and accurate treatment, we will only be able to prepare regular pharmacy prescriptions and refills during a scheduled office visit. Please notify the medical assistants of all possible medications that may need to be refilled during the next year at the time of your appointment. Refills for most medications last for one year, at which time we will be happy to see you again in the office for another prescription. We recommend that you take advantage of your medication refills before they expire.
During your office visit, we will write your prescriptions with adequate refills to last until your next follow-up appointment. In response to fax requests from pharmacies or call-ins for prescription renewals, we will kindly ask that you come into the office for an appointment. (Please note that this policy does not apply to compounded Retin-A or Hydroquinone lightening cream refills, since each of these refills must be authorized through our office every time).
We recommend that you schedule your recommended follow-up appointment at each visit to prevent any unexpected medication emergencies.
Pathology Services
When skin lesions are removed, the tissue specimen is sent to an outside specialist laboratory for both slide processing and interpretation. The lab will bill the insurance and/or patient separately for this service. To ensure high quality and accurate diagnosis of our skin biopsies, we prefer to send our specimens to the dermatopathologists at Regional Medical Laboratory or Sagis Diagnostics .
Elective Procedures Considered Not Medically Necessary
Depending on your insurance plan, the removal of skin tags and other skin lesions may be considered elective and are not covered by insurance. After an evaluation, we will discuss these lesions and any involved costs at the time of the appointment.
Telephone Calls
Our office telephones are very busy, and we apologize if you are asked to hold for a brief period. Should you need to speak with the medical assistants about your recent appointment or treatment, please leave a message for them with the telephone receptionist. Please let us know at the time of your call if your problem is urgent. The medical assistants are helping with patient visits during clinic hours, but they try to return calls as soon as possible. If you do not receive a returned call within 24 hours, please let us know.
Emergencies
If you have a true dermatological emergency during office hours, please call first so that you can receive treatment as promptly as possible. After regular office hours, call the main office number (832-871-4111) where the answering service can page Dr. Brown directly. Please note that we are unable to process prescription refills or schedule appointments after hours.
Medical Records
If you need to have medical records sent to our office from another physician or have them transferred from our office to another provider, please fill out the Medical Record Release Form . You may mail the form to us, return it in person, fax it to our office at (832) 871-4112 , or scan it and send it to [email protected] . We will be more than happy to transfer records as soon as possible to facilitate your medical care. Please note that a fee may apply for obtaining records for personal use or other purposes (such as life insurance policy determination).