Invisipeel ™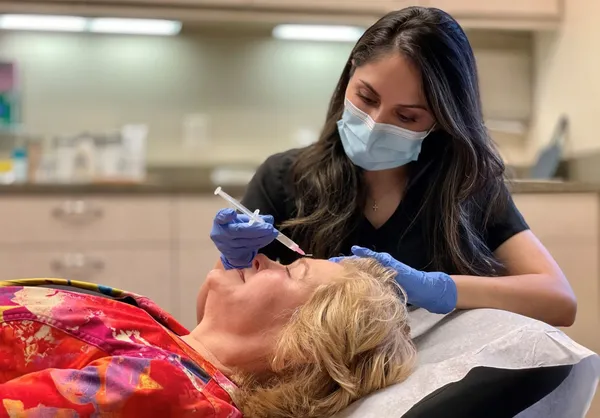 This isn't your mother's chemical peel...
No peeling
No downtime
No pain
No sun avoidance
Can be performed year-round
Safe for any skin color
The Invisipeel ™ works from the inside out. The patented compound in this peel penetrates past the upper layer of the skin and exerts its effect in the deeper layers to stimulate skin regeneration without causing damage to the upper layers. Because of this novel approach, we can easily bypass all the usual side effects and complications of a standard peel.
This revolutionary procedure was developed and imported from Europe, where it has been performed in over 40 countries for many years (over 2 million treatments worldwide!). We finally have access here in the US after it was FDA-registered for use in 2019, and we are extremely excited about this incredible innovation!
What does this process involve?
This is typically a series of 4 weekly peels. Some conditions, such as scars, may take more sessions. A standard treatment area is either the face/neck or the neck/chest, but other areas can also be treated. The entire process takes about 30 minutes in our office. Come with a clean face and no makeup, if possible. Afterwards, you can apply makeup immediately and resume regular activities. We will go over simple post-treatment skincare with you at the time of your appointment.
What does the Invisipeel ™ treat?
Our favorite indication is crepey, aging skin. This treatment improves radiance, firmness, and hydration of the skin through biorevitalisation, while minimizing crepiness. It is also indicated for the improvement of mild scarring, stretch marks, and sun damage.
Is there a limit to how often I can do this peel?
With the Invisipeel's ™ reassuring safety profile, you can repeat the procedure as often as you like, or even repeat it before an important event. This process has the feel of a facial with the results of a peel. We do recommend that you return for a booster treatment at least every 6-8 months to continue the collagen stimulation. Or, you may prefer to complete a full series of 4 weekly peels every year. If you would rather choose to have a touch-up every month or every quarter, we certainly support you!
Who shouldn't undergo the Invisipeel ™?
Limitations are minimal for this peel. However, those with active cold sores or irritated skin in the treatment area should delay the procedure. Pregnant and breastfeeding women will have to wait as well. Sorry ladies!